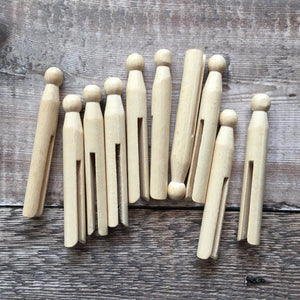 Pack of 50 solid beech dolly pegs with a waxed finish. The pegs are just under 11cm long, very cute and nostalgic.
These old fashioned clothes pegs are made by a German family company who specialise in brushes and laundry pegs. 
They are the best quality pegs I've found in years of hunting, but you may find a few in any pack with a slight 'jog' in the turning, a hairy inside leg, or the occasional one with a wide gait!
They work with our close fit peg heads which will simply slot over the smaller dolly peg heads in most cases. Some pegs may need a tiny sand to fit.
After nearly a decade of peg wrangling, I've realised that it's wise to have a little bit of sandpaper handy if you are creating with dolly pegs.  I recommend fine to medium wet-and-dry paper, which lasts quite well and you can rinse it under the tap and reuse it. 
50 dolly pegs
Plastic outer
Made in Germany
 Not suitable for children under 36 months